See What Your Port Moody Periodontist Offers Your Smile!
Bone Grafting & Socket Preservation
Bone grafts are used to fill in bony defects around teeth or where there is a lack of appropriate bone height or width for dental implant placement. These techniques represent some of the greatest advances in modern dentistry. The actual procedure requires the surgeon to place bone under the gum tissue at the site where the bone graft is needed. The graft is then covered with a membrane made mostly of collagen for protection and stabilization. Membranes also prevent the gum tissues from invading the healing bone graft. The membrane is also used to protect the graft from bacteria found in the oral cavity and ensure that the area remains clean for optimal healing process to take place. Finally, the area is closed and the tissue is sutured into place.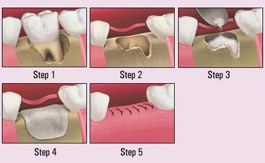 Bone grafting usually requires 4-6 months to completely heal and fill the defect, however this can vary from patient to patient. Patients are given a prescription for oral antibiotics to take following their procedure. An antibacterial mouthwash will also be prescribed to preserve the health of the gums covering the bone graft.
On follow up, the surgeon will check on the success of the graft by taking radiographs to determine the height and width of the new bone. Once this has been verified as satisfactory, and the site of the graft is completely healed, the next stage of the dental implant procedure can begin.
Contact Aria Periodontics & Implant Group today to book your appointment.